About Sunshine World
Sunshine World has been established by Child Education Society, which has created a legacy of 75 years of Excellence in school education. Today, Child Education Society runs 27 Bal Bharati schools pan India. The foundations of learning are laid at the pre-school stage itself. Sunshine World will provide a strong foundation to the all-round holistic growth & development of every child.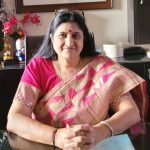 Chairman's Message
Mrs. Meenu Goswami
With a vision to set a milestone in shaping a positive preschool environment, Sunshine World is designed to provide an ideal learning environment. A team of professional and compassionate staff fosters to the individual needs of every child for their overall development in a holistic manner. Creative and joyful experience, health and child care, safety and security measures are committed features of the school. The team is trained to focus on early years learning frame work based on the guiding principles of 'becoming', 'belonging' and 'being' which makes Sunshine World stand out as a school with a difference. Committed to give the best to every child, Sunshine World is the best 'home away from home' for your child.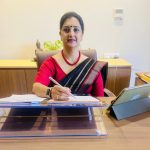 Headmistress's Message
Ms. Anju Singh
At Sunshine World, our commitment to providing a nurturing, innovative and inclusive educational environment remains unwavering. We firmly believe that every child has prospects to shine, and it is our duty to foster their imagination. We trust in respecting every child's individuality since each one holds a unique brilliance within, and our school is here to unlock their full potential. Early years of a child's life are crucial for their foundational development and we are dedicated to ensuring that each child in our school feels valued and cherished. We are constantly engaged in providing an enriching and joyful experience through the power of creative play and social interaction.